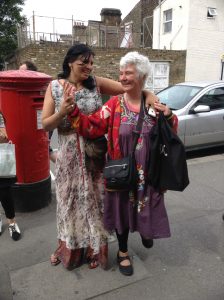 A new organisation set up to celebrate the many and varied contributions of women in society – WoW U, held their first event on Sunday, 9 July 2017 – with food , music, stalls and Zumba! They named a series of local women nominated by the community for their commitment and dedication to a variety of causes.
The Mill was well represented – Mo Gallaccio was nominated for being one of the  founders of The Mill and promoting creativity in E17 and  Amarjit Jagdev for her tireless work with The Asian Women's Support Group. Mill users will also be familiar with Katja Rosenberg who was nominated as a curator of amazing exhibitions and her work with the Migrants Action Group.
It was a very positive and interesting afternoon and great to see so many different women there.