Room hire
Our affordable rooms are available for hire.  Any money raised gets put back into our charity.
What's on
See what's on at The Mill this week.
Get involved
To keep our much-loved community space open there are lots of different ways to support us.
Isabel's story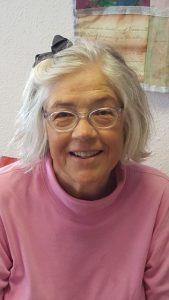 I'm a retired librarian.  Five years ago Mo 'press ganged' me in to setting up our Honesty Library.  Since then I've kept it functioning, filing regularly donated new books.  I help at our knitting group, making sure everything is set up, supplies available, welcoming new participants and when necessary showing people basic knitting skills to get them started – I suppose general troubleshooting.  The Mill Knitters gets involved in a variety of projects including the Wetlands Swift project; Twiddle Cuffs for dementia patients and for Age UK, little hats for smoothie bottles. 
I'm on the Events team and often man a knitters table at events. Also I'm part of The Mill Gardening Group.   I'm no expert and the group welcomes anyone that can advise us and take a proactive role.
An unexpected bonus of volunteering has been the human warmth that I've received – this has in turn I feel increased my love for other people. It's difficult to explain the joy that I receive. Just today, in a local street I bumped into someone I knew from The Mill. The woman spoke quite poor English but she flung her arms around me and gave me a big hug, she was so pleased to see me. That would never have happened if I hadn't volunteered here. I'm surrounded by casual acquaintances and close friends and I'm so grateful that Mo persuaded me to come aboard.  
My rule of life is be kind and smile a lot and love my fellow humans – at the Mill I get plenty to smile about and there is a lot of love!
More stories