Room hire
Our affordable rooms are available for hire.  Any money raised gets put back into our charity.
What's on
See what's on at The Mill this week.
Get involved
To keep our much-loved community space open there are lots of different ways to support us.
Hajrah's story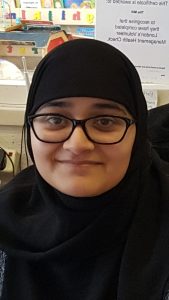 I joined as a volunteer in early 2017 as I wanted  to do some community work.  I saw an ad and I thought it would be a great thing to do.  I was at uni and I felt that I needed to socialise more as I was working very hard as a student and needed an outlet.   Especially as coming here I could interact with people I wouldn't normally meet.  I volunteer as a receptionist two afternoons a week.  One of the reasons I volunteered is for me to get to meet so many people, as we have a children's room I am getting acclimated to being with young children.  Before coming here I'd been scared of kids!
 Another bonus for me is the Living Room, I really enjoy viewing the exhibitions they're all so different! A highlight for me was when everyone came together to witness the lease being signed in the Living Room. I found it really uplifting. I felt I was part of a team – everyone working together with the same aim of making sure The Mill has a future. People had been here so much longer than me but I felt proud to be included.

In early 2018 through The Mill I was signposted to Eagles, East London Business Alliance's graduate programme which after the interview process and a reference from The Mill I was recruited. This is a great opportunity for me and wouldn't have happened if I hadn't volunteered here.
My rule of life is to try and do something out of your comfort zone as often as you can. For me joining The Mill was very much that and I am so glad that I took the big step (for me) to get involved.
More stories