Room hire
Our affordable rooms are available for hire.  Any money raised gets put back into our charity.
What's on
See what's on at The Mill this week.
Get involved
To keep our much-loved community space open there are lots of different ways to support us.
Arfan's story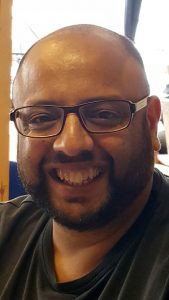 I grew up round here so used to visit The Mill when it was my local library.  After it was reopened as a community centre, I'd walk past it on the way to the train station but never came in.  Not until I was off work convalescing and I joined The Mill Knitters group.  I was made to feel very welcome and produced some baby blankets.  This inspired me to offer my time as a volunteer.
I help out at events, which involves me setting up, clearing up and managing things like selling cakes and chatting to people. I also help with data capture and monitoring all the great activities happening here.
An unexpected bonus of volunteering has been the way it has helped me get more in touch and feel part of the local community. Not just by coming to events but also the people I've got to know and now consider great friends.
My rule of life is to help others as much as I can as you never know when you may need help.  Getting involved at The Mill has allowed me to achieve this.
More stories