At The Mill we provide the venue, resources and support to help make things happen.  All our groups, events and activities are developed by local people for our local community.  Our space enables visitors to feel a sense of belonging,  provide an opportunity to make great friends and help shape our diverse community.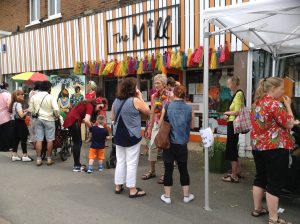 There's lots of different ways to get involved and be part of The Mill family.
Volunteering helps keep The Mill open and buzzing. Help out here at The Mill; when we're milling out and about in the local area or from your own home.  Volunteer at The Mill.
Do you have an event or activity you want to develop? See how we can grow your idea.
From a one off donation to our Friend of The Mill regular subscription. Donate to The Mill 
From a small knitted doll, to local art work to a slice of cake. Spend local and shop at The Mill.
If you're a funder or a local business see how you can partner with us.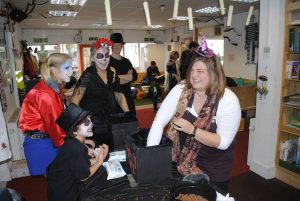 Our upper floor is home to five residents. See who's part of the wider Mill family.
Keep an eye out as we'll advertise any workspace if they become available.
How does The Mill make a real difference?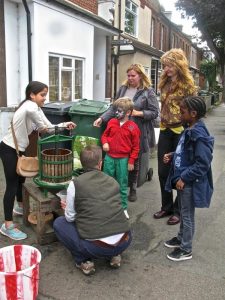 Provides the facilities to help develop inspiring projects.
Encourages local people in the development of services and activities.
Works with local people in most need of help.
Supports the development of community-led activities to improve our local environment.
Motivates local people and businesses to become more involved through volunteering.
Equips local people with the skills and motivation to improve their life chances.
It has been a lifeline for me! The Mill is a warm, nurturing place to be, a healing, calm place when you are not feeling very good about yourself. Since volunteering, I have felt valued and part of a wonderful team. It has helped me to get through a very difficult time in my life, to re-connect to my local area after I became unemployed and housebound.
Get involved in our community
It's easy to feel disconnected and hard to find time to be involved in our community.  But the satisfaction and pride that comes from helping others when you commit to giving your time, effort, ideas or even your money can feel great!
Betty's suggestions bucket
The Mill is always looking for new ways to build on our good work.  We want to make sure we're making the best use of this much loved space.
If you've any suggestions, big or small please let us know by dropping your idea into Betty's bucket!  Fill in one of our postcards I love the Mill because or My wish for The Mill. we welcome your thoughts.
After 43 years full-time work, I was rather dreading retiring and so was looking for something to get me out and about and meeting people. I've really welcomed being able to use my computer and events organising skills – and to have had the opportunity to learn new skills (website and Mailchimp). The Mill is a friendly and supportive place – both for volunteers and visitors. It's just great!