Cut & paste exhibition is celebrating the medium of contemporary collage.
Our next exhibition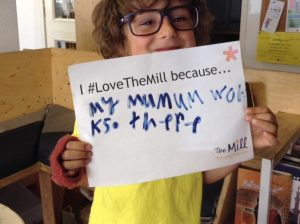 'Our story so far. The past, the present and the possible future'.
In the living room, running from end June to early August we're hosting 'Our story so far' exhibition.
This is a great opportunity to celebrate The Mill. We'll take a step back to see how far we've come, consider where we are now, and take a step forward on what the future could possibly bring.
To make the best use of our centre, we're in the very early stages of looking into ways to build on our strong foundations. Our aim is to do so in a way which inspires everyone to get involved, never forgetting that The Mill is more than bricks and mortar. It's the people who make it a home away from home.
Become part of the story on the dedicated sharing wall. This is your chance to let us know what you love about the Mill and your wishes for the Mill.
Midsummer Mill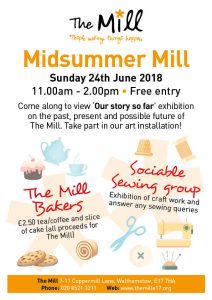 On Sunday 24 June 2018 11.00am -2.00pmn in The Mill living room.
Come along to view 'Our story so far' exhibition and take part and contribute to our art installation!
The Mill Bakers will be providing refreshments.  Sociable Sewing Group will be displaying their latest craft work and answer any sewing questions you may have.