By Beverley Harknett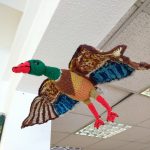 Do you have an interest in the creative use of textiles and materials? If so the latest exhibition at The Mill is a must for true fans of the fabric. I went along to view this artistic and ambitious show of skill and imagination. Extremely colourful and full of great flair, I found the Fabrications exhibition to be a delightful blend of everything and anything possible. I also found there are no limits as to what can be created and captured with the use of textiles, or the more unconventional.
On display are forty-four diverse and exciting exhibits, from amusing characters to the more poignant and serious. Every one of the pieces stand out on their own merit, and I particularly liked the exhibit called Child by Shelly Berry. This sensitive and gentle piece with soft use of colour and mixed media is beautifully understated.
In contrast, The Robe of Protest by The Inky Cuttle Fish women's group speaks volumes with their Cloak of Figures. A representation for the 'Voiceless' in society. I felt very impressed with this piece which is made from embroidered, appliqued, painted and sculptured figures. I liked it particularly as it projects a greater insight into those who are often side-lined from our society. Thought provoking, profound and topical, this large protest cloak says it all. A voice for those haven't one, and whose views are often overlooked.
An element of fun can also be found at the Fabrications exhibition. The trio of cheeky ducks called Mallarding Around by Harry Knuckles are full of character. Charming and amusing, these crochet sculptured ducks really do know how to raise a smile. Twiddle Cuffs by various creators including The Mill Knitters, have an exceptional cause, as the arm cuffs are created especially for patients with dementia and delirium. These knitted cuffs are used to stimulate, comfort and to help with anxiety and agitation. Again, I found this to be impressive as these colourful and useful items bring benefit to those who need them.
All works and pieces on show deserve a mention for being completely individual and unique. However, Harriet Hammel's creation Softuki motorbike is the ultimate show stealer! A very large soft sculpture with distinctive detail and is a life size replica. The Softuki motorbike has a wonderful story to tell on how it came about. The Fabrications exhibition is in memory of Harriet Hammel.
Fabrications is on at The Mill until the 16 September 2017.