The Mill does things slightly differently. We don't run services or decide what goes on here. We provide the space and the resources – and all our groups, events and activities are brought to us by local people who want to make something happen in Walthamstow.
How The Mill began
The Mill is a whole-community venture and there are as many versions of The Mill as there are people involved in it. Here are some of their stories, and more will be added over time. These are not definitive histories, but collectively they tell something of our amazing story, and provide an archive of some of the things that happened and people who were involved.
One day, maybe, someone will try to write a definitive history of The Mill from these contributions…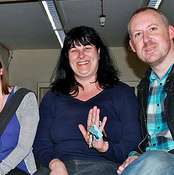 Alison Griffin, First Chair of Trustees
 Ruth Duncan, current Chair and head of HR
Our first twelve months – the Year of the Rhino
The Mill enjoyed an amazing first year. The wonderful Recycled Teenagers group of older residents made us their home. The Asian Women's Group came to The Mill and grew from strength to strength. We hosted homework clubs and young people's theatre, and children flocked to craft workshops. As part of the Neighbourhood Challenge we supported many local groups with seed funding, room hire and support to help them grow. This is the story of that first year:
We'll publish our accounts and an Annual Report every year, and you can find more information about us on our Charity Commission.
New Year, new sign
Find out how locally based designer Sam Kennedy created our new sign for The Mill in mid-January 2015.
Nesta and the Neighbourhood Challenge
The Mill was established after a passionate community campaign to keep the St James Street Library open. When it became clear that this would not be possible, the local residents association Blackhorse Action Group won funding through the Neighbourhood Challenge, a programme to  support community-led innovation using funds from NESTA, and working with the Big Lottery Fund.
The Neighbourhood Challenge aimed to show how community organisations – when equipped with the right skills, support and resources– can galvanise local people to work together and create innovative responses to local priorities.
View an archive of our newsletters and emails and sign up for our newsletter.