Shop local, spend local, enjoy local
Here at The Mill we sell a broad range of things from gifts to cake.  All the money we raise goes straight back into the running of our services.
Looking for a gift?
The Mill knitting and crochet group provide beautifully crafted soft toys to snoods to baby clothes and more, from a couple of pounds upwards.
We have a range of mugs with images from sculptures that have exhibited in our children's room.  One mug is £7 or £24 for the set of four mugs – dinosaur, chameleon, elephant and rhino.

Art for sale!
At our regular art exhibitions you can pick up a piece for yourself or a present.  When you purchase an exhibited piece of artwork The Mill receives 20% commission of the selling price.  If you want to exhibit your art please get in touch with our Art Works team.
Fancy a cuppa?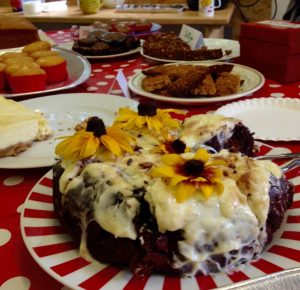 We have a well stocked refreshment table in our Living room. Make a 50p donation for tea or coffee and any donated biscuits or cakes.
Or drop by on our coffee morning on the first Tuesday of each month from 10 am-12 noon.
Every Wednesday from 12.00 onwards we've Souper Wednesdays – pop in for lunch of soup and cake.
Plus The Mill Bakes make a tasty array of cakes for our fundraising events.
OrganicLea collection point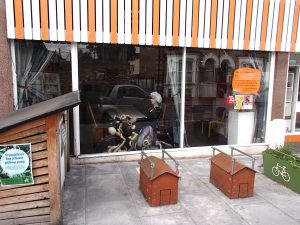 OrganicLea is a workers' cooperative growing food on London's edge in the Lea Valley.  The Mill is one of their pick-up points.  Produce is delivered on Wednesday evenings at 5.30pm and will be available for collection until Saturday.  Uncollected bags are taken back to minimise wastage.
If you don't want to buy, why not donate?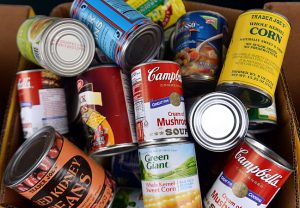 Eat or heat is a charity that helps feed people that are struggling. In tough economic times more families are saying "I can either heat and light the house, but can't feed the family too".
The Mill accepts food donations on their behalf. Volunteers visit us regularly to collect donations and bring it to the food bank for distribution.  Visit the eat or heat.org website for more information.
Want to get involved?
We're currently recruiting for a Mill Merchandiser volunteer (opens as PDF).  Please contact Ruth our volunteer co-ordinator if you're sold on this role.
Read about more volunteer roles here.