The Mill plays an important part of the local community and extends the hand of partnership far and wide.
By working with groups across our local area we can share ideas, skills and resources – making us more resilient and able to take up new opportunities.
The Mill's Strategy for 2016 – 2021
The Mill Consultancy
The Mill Consultancy was established in 2013 to share what we have learned in founding The Mill and helping other organisation to flourish in the process.  The London Borough of Waltham Forest commissioned The Mill to project manager a community space development project at Lea Bridge Library in Leyton.  Our role was to help make the library sustainable into the future, through supporting ideas, activities and groups.
The Ideas Kitchen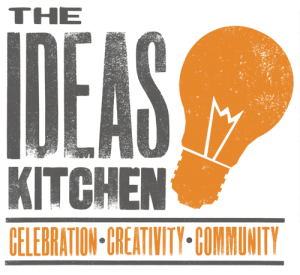 The Ideas Kitchen is a community arts initiative developed with by a community board of local organisations, including The Mill and the Barbican, the people behind Walthamstow Garden Party.
It's an opportunity for creative people and new ideas to get local support.
They provide a platform for creativity and collaboration. It's a bit like an offline 'crowdfunding event'. It gives local artists a platform to pitch their ideas for creative projects to the community, who then decide which one they'd like to see developed.
Anything from running poetry sessions, to dance lessons or arts and crafts workshops.
The Barbican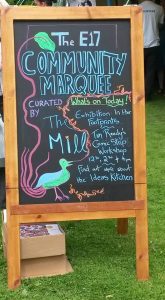 In 2016 and 2017 The Mill was invited to set up and run The E17 Community Marquee at the Walthamstow Garden Party, an annual event produced by The Barbican, Create and Waltham Forest council.
The Community Marquee is a wonderful opportunity for us to work with other local groups. In 2017 over 50 volunteers and staff from charities, projects, community interest companies and council departments took part, showcasing their organisations through stalls, an exhibition, leaflet displays, activities and a play area. The Garden Party was attended by over 36,000 people and around 75% were from the local area.
To get in touch
To get in touch please contact Helen Bigham, our Business Development Manager who would love to discuss ways of working together.