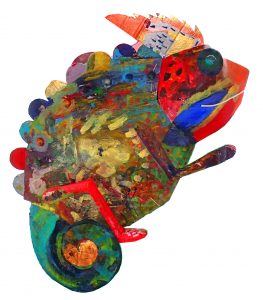 Our Children's room is a fun, free space for children to play. We are open to everyone from 9.30 am – 6pm Tuesday to Friday and 10 am – 2pm on Saturday and Sunday. Come and say hello to George our Chameleon sculpture some time soon!
All children are welcome but must be supervised by an adult carer.  Please leave your buggy or and pram outside the room and we ask for no food or drink to be consumed in the room.
It feels like popping into someone's home, using all their toys while they're not there!
Grandmother of users of our Children's room
Looking for a space for a children's party?
You can book our Children's room outside of our public opening hours. On Saturday and Sunday afternoons we offer an affordable and fun children's party package