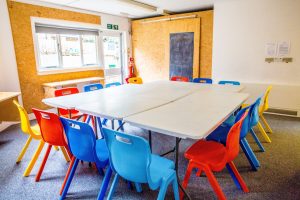 What are The Mill's Public opening hours?
9.30am to 6.00pm Tuesday to Friday
10.00am to 2.00pm Saturday and Sundays
Closed Bank Holidays and Mondays.
Can I book a room outside these hours?
Yes you can! Please enquire for availability. When The Mill is not otherwise open, additional charges may need to be made to cover staff overtime.
Can I hire more than one room for my event?
Yes you can! Please speak to us about the cost and availability to do this.
Do you have charity or discounted rates?
As The Mill is itself a charity – we're unable to guarantee discounts to other charities or non profit organisations.
If your booking is outside of our public hours we will require a deposit. Your booking will not be confirmed until you have provided us with a completed Booking Form and deposit.
Full payment is required when you provide us with written confirmation, for which a receipt can be issued on request.
How long will you hold a space for me?
Provisional bookings will be held for one week. If no written confirmation is received the booking will be cancelled.
When do I need to pay in full?
The balance becomes payable no less than one full week prior to the hire date.
Do I get charged if I cancel?
In the event of cancellation, Hirers are liable for payment of charges as detailed below. Notification of cancellations should be made in writing and will be effective on the date received by The Mill. In the event of a cancellation, Hirers are liable for payment of charges as follows:
20% of total charges for cancellations made within 7 days of meeting date
50% of total charges for cancellations made within 2 days of meeting date.
100% of total charges for cancellations made less than 24 hours of meeting date.
Do I need to carry out a risk assessment of an activity?
Hirers should carry out their own risk assessment of their activity.
Does The Mill have tables and chairs we can use?
Absolutely! Each of our spaces has access to tables and chairs. Add your requirement on to your Booking Form.
Do I have to clean the space after my room hire?
Yes, The Mill asks all hirers to return the spaces to how they found them. This will include packing down and returning all furniture, sweeping/mopping any spillages and throwing away leftover food. Please ask for equipment at Reception.
Of course you can, up to a point – no drilling holes! Please speak to the staff member on duty. Please ensure that all decorations are taken down and taken away at the end of the event.
Can I bring in my own food and drink?
The Mill does not have public kitchen facilities.
You will need to provide your own food and drink. Please note it will also be your responsibility to provide paper plates, cups, cutlery.
We can provide drinking water and for a modest fee tea, coffee and a flask of hot water for your event. Alternatively your users can use the facilities in the Living Room, for which they're to be asked to make a donation to The Mill.
Can I provide my own alcohol?
Alcohol is not permitted at The Mill and there are no exceptions.
How do I book dates with The Mill?
Please contact us to arrange a viewing of the space and to discuss availability
Complete the booking form .
Pick up a General Room Booking form, complete and return to us.
How do I promote my activity or event?