Wonderful community space, everyone is welcome. There is always something to do or someone to talk to.
Google Review, 2016
Promoting your event at The Mill
When your booking is confirmed you'll be sent our easy-to-fill promotional form so we can help share it on our website and social media.  The sooner you send the form back to us the sooner your event will get free publicity!
On the form you'll be asked for:
Event/activity name.

Comms workshop held in Garden room

Contact details.
Category – please tick categories that most describe your event eg family, children, creative.  The more information you provide the easier it will be for visitors to find out about your event.
If there's a cost.
Dates and times of event (please make sure you put in the time that event starts and finishes not your setting up and putting away times).  If it's an on-going event eg exhibition click the All day button.

If the activity is on more than once a week you'll need to create an event for each day.

Description of event up to 160 words. The more information people have, the more likely they're to come.  Include who the event is for and if there is a limit on numbers.
If your event requires tickets where to get a ticket.  Ticketing, even for a free event,  helps you to get a good feel of the turnout before, and helps you build up your mailing list for the next one.
An image for your event – ideally a JPEG. We recommend that you use a photo of people to give a real feel of your event. Copyright of image and permission of people in photograph is your responsibility.    You can use a JPEG of your poster but this will appear very small on our website.  If we consider the image to be inappropriate we'll request you to submit a new photo before we publish your event.
If possible please provide A5 copy of your poster to go on our noticeboard and leave some flyers with us.   We recommend on your promotional material to include our logo and address.
Wider promotion
Your event will also be automatically added to Walthamstuff which promotes events in our local area for free.
Don't rely on only us to spread the word, you'll need to keep plugging away. Distribute your flyers in local places and encourage people to share your details and join local forums relevant to your activity and get posting.
If you share your event on social media, tag The Mill account so we can re-share your posts.
Ticketing your event?
If you decide to ticket your event we recommend you use the free site Ticketlab which is an offshoot of Walthamstuff.
If you've any questions please speak to Natasha and the team as they'll be happy to help.
How to make your event open for everyone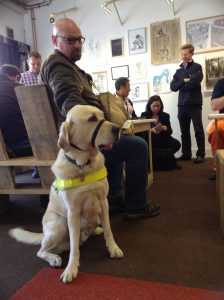 The Mill – Accessibility tips for hirers
This jam-packed document provides lots of advice to make sure your event is open for everyone.  Compiled by Mill volunteer Sarah Teichler, for more accessibility advice visit her website Teichler Consulting.