General information about The Mill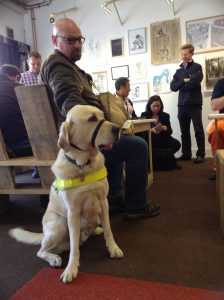 Our community toilet is wheelchair and baby-friendly accessible.
Assistance animals are welcome, dogs on leads are allowed only on carpet by entrance.
Our building is generally well heated. We've no air conditioning and rely on doors through to the garden and front entrance to ventilate the ground floor.
Love having The Mill here. It's been such a saviour so many times.
Visitor  A week in the life of The Mill, Snapshot Survey 2017
Information for people with physical disabilities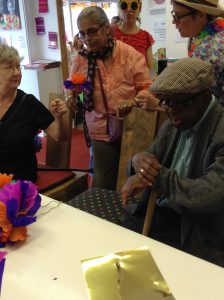 Our entrance is on flat surface, and the doorbell is at a height suitable for wheelchair users.  Our front door is not power assisted and is slightly heavy. This can be of particular difficulty for wheelchair users, and anyone with limited upper body strength. Please ring our doorbell and someone will assist.
Our ground floor is on one level and is flat and suitable for most wheelchairs and other mobility aids.  All doors are wide enough for wheelchair users.
We don't have a mobility charger nor access to charging a mobility scooter.
Seating is available throughout but is not well padded and could become uncomfortable over a long period of use.
Information for deaf, hard-of-hearing, and sound-sensitive people
No induction loop system.
Where at all possible, closed captioning (subtitles) will be used on all video presentations used but it is the responsibility of the event organisers to offer this service.
We're a community space so The Mill can sometimes be loud. We recommend that visitors who need hearing protection in social situations due to sound sensitivity provide their own ear defenders.
Information for blind, partially-sighted, and photosensitive people
Flicker-free fluorescent lighting throughout The Mill.  The Living Room has curtains to reduce sunlight and streetlight glare. Our Garden Room has blinds to reduce sunlight glare.
Large print versions of resources are not available.
Audio CD, DAISY CD, MP3 audio, Braille and tactile diagram versions of resources are generally not available.
First Aid
 First Aid kit is available in the kitchen, prominently displayed on the wall in a green fabric bag.
In a health emergency contact the volunteer on Front Desk duty.  We have trained First Aiders on site.
Food and dietary information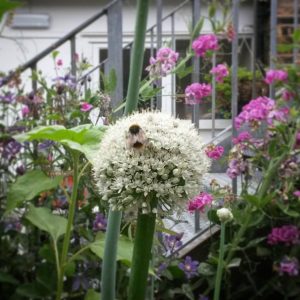 We provide tea, coffee, tap water and occasionally snacks and soft drinks that are donated by the general public. These donations can include vegan and gluten-, soy-, nut-and dairy-free snacks but are not prohibitive to this selection only. It is not the responsibility of The Mill to approve the donation dietary specifications.
We can request our staff, volunteers and visitors to not open or eat food containing allergens (nuts, etc) if they will affect your health. Please let a volunteer know and we'll ensure this is put in place for you.
You're welcome to bring your own hot or cold food and drink.
Alcohol, tobacco and unlawful drugs are not permitted to be used at The Mill. You're welcome to bring your own prescription medication. A smoking area is available in the Garden area outside at the rear of the building.
How to make your event open for everyone
The Mill – Accessibility tips for hirers
This jam-packed document provides lots of advice to make sure your event is open for everyone. Compiled by Mill volunteer Sarah Teichler, for more accessibility advice visit her website Teichler Consulting.