Who else is based at The Mill
Our upper floor is home to five residents.  They're very much part of The Mill family and we enjoy the opportunity to work with new people and organisations.
A social enterprise delivering research, writing, publishing and training services as well as running  local and national projects.  Publishers behind the free local papers Waltham Forest Echo  (read our column every month on page 11) and Tottenham Community Press.
We're proud to call The Mill our home, a fantastic community hub!
James Cracknell, Editor of Waltham Forest Echo

Artillery
An arts development organisation established by the creative team behind the E17 Art Trail.  Artillery is a not for profit, community interest company working with a collective of freelance creative professionals and dedicated volunteers.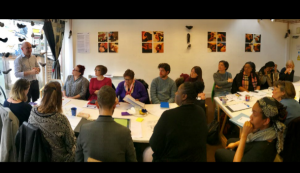 An umbrella body for the voluntary and community sector, volunteers, social enterprises and community action in Waltham Forest.
Jason Hawkridge is an established multi disciplinarian artist, print maker and art teacher. We've featured one of his works at the top of the page. Want to be inspired?  You can join his regular Making your mark art classes run at The Mill.
View more of Jason's work on his website and Instagram @jasonhawkridgeart.
Seiko is a fashion designer "I love vintage inspiring. All my clothes are handmade by me. They are made with care, attention to detail with touch of vintage trimming".