My daughter enjoys visits at The Mill. She is coming here once a week. My partner is active as a volunteer at The Mill. This helps her to improve her skills (work) and confidence. We enjoy visits.
Polish visitor, A week in the life of The Mill, Snapshot survey
Volunteer Mill Merchandise Assistant
Task: To be responsible for Mill merchandise, creating displays at The Mill and organising promotion and sales at events at The Mill and occasionally at external events. To maintain stock supplies and operate an ordering system . To promote merchandise externally using website and social media
Time commitment: flexible times.
Skills needed: Requires someone who can work on their own initiative, highly motivated with a creative flair and good organisational skills.
What does it involve?
Creating displays to promote Mill merchandise at The Mill and at events.
To maintain stock supplies and process orders for The Mill and customers.
To promote merchandise at events, create seasonal and topical displays in accordance with themed events and special dates.
To liaise with Comms and website team for promotion opportunities.
To carry out stock check and report on sales.
To look at new opportunities for merchandise.
To source suppliers, develop relationships and negotiate charges.
Task: Help us keep the building in tip top condition.
Time Commitment: As and when required
Skills needed: Competent at basic building repairs and use of small electrical and mechanical equipment.
What does it involve?
Carry out minor repairs as and when required, for example to fixtures and fittings, putting up shelves and pictures, small paint jobs and assistance in shifting furniture for events.  Willing to be on call for emergencies.
Able to understand and apply regulations (including health & safety, manual handling regulations).
We will be reaching out to groups and organisations across Walthamstow to
put together a schedule of workshops/salons/events/trainings that will be delivered at The Mill. This person will help us cultivate relationships with partners who can deliver content, help organise the events and do some of the comms for the cycle. We need an enthusiastic volunteer who is eager to go out into the community to represent The Mill and promote the cycle of events once they start.
Suitable for: An enthusiastic, highly motivated, self-starter who can offer flexible working times. Minimum of 12 hours per month.
Skills needed: Excellent organisational skills, IT literacy, preferably also social media savvy. Excellent interpersonal skills.
What does it involve?
Gaining an excellent understanding of The Mill and its mission; and broadcasting this
Working with the Mill Volunteer Focus Group to determine what the volunteer pool training needs are.
Helping recruit volunteers for Salons and activities
Supporting some of the comms around the cycle of events
Representing The Mill at some events
Reception and Front of House Volunteer
Task: Reception, front of house, general admin support and hosting visitors.
Time Commitment: Minimum one 4-hour session per week.
Skills needed: Friendly and welcoming manner, team player, basic/intermediate level IT skills.
What does it involve?
Answering phones, dealing with queries (on phone & in person), meeting and greeting visitors
Keeping rooms tidy
Updating notice boards, maintaining events and activities registers, keeping a plentiful supply of up to date information at Reception
Keeping tea & coffee point tidy – replenishing supplies and washing up crockery and cutlery
Helping to set up rooms for meetings.
Get in touch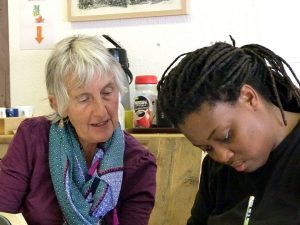 To find out more, meet Ruth, our Volunteer co-ordinator, at her monthly drop-in session 10am – 12pm the first Saturday of the month.
Or if you can't make it fill in our  volunteer form and we'll contact you.