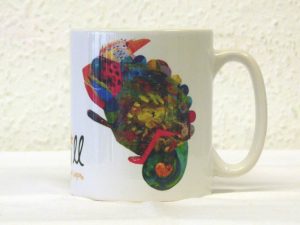 10am -12pm
£1 per cup or FREE all day if you buy a George the Chameleon mug
All welcome
Did you know on the first Tuesday of every month, we serve real coffee with homemade biscotti?
This month, on 7th November, we have a special offer of FREE, unlimited hot drinks all day, if you buy one of the new fabulous George the Chameleon mugs for £7.
This month's coffee will be served by our special guest barista Nat di Maggio. Join us from 10am – 12pm, for coffee, and a chance to meet other local people, read the paper in the Living Room or browse the Honesty Library.
We will also have on sale our brand new Mill Menagerie mug set featuring all our Children's Room animals, Rhino, Elephant, Stegosaurus and George the Chameleon, £7.00 each or £24 for a set of 4 mugs. Get some Christmas shopping done early!
All profit goes back into the running of The Mill.