How we help groups grow
This group in The Mill are very friendly and helpful when help with needlecraft that is crochet I am doing at the moment. I always feel like I am part of the group.
Knitting group attendee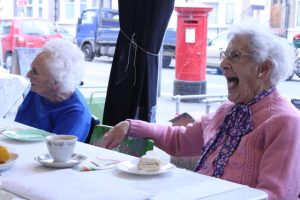 Our aim is to not just provide a space but help support local groups looking to grow.  The Mill has  worked with so many creative and passionate local people, who've incubated their ideas and brought amazing new activities and workshops here.  After all, user-led, self-managing groups are at the heart of what makes The Mill special.  From the Asian Women's Group to The Mill Book club, through to those that meet up weekly to play Scrabble or The Mill gardeners who care for our garden.
The way we support these community entrepreneurs has developed over the years, as we've perfected our model of community development. We've listened to local people to find out what motivates and concerns them, and how we can help them use their skills and potential to make things happen.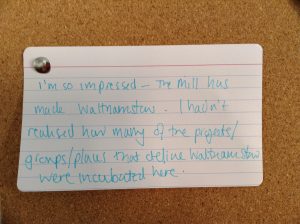 We've told the story of this journey in our publication – Grow Your Idea (PDF)
Here's some of the projects we've helped over the years:
Watch Mo, founding member of Art Works volunteer group, celebrate what they've achieved so far.