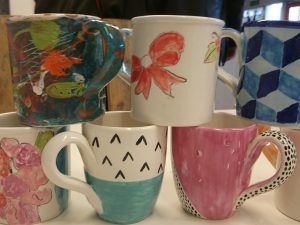 Thursday, 25th January 2018
7:15pm – 9:30pm
£15 per person, max 10 people
Booking and payment in advance.
Join us for an evening of creativity and relaxation at our Pop-up Pottery. Experiment with a number of pottery decorating techniques to create a beautiful ceramic travel mug.
Perfect for cold winter days outside!
Included in the workshop cost:
Demonstration of 3 simple but effective decorating techniques
1 ceramic travel mug with silicone lid and hand grip to decorate
Use of our pottery paints and equipment
Glazing and firing of your piece for collection a week or so later
All proceeds from the workshop go to support our work at The Mill.
To book your place, please email info@themille17.org