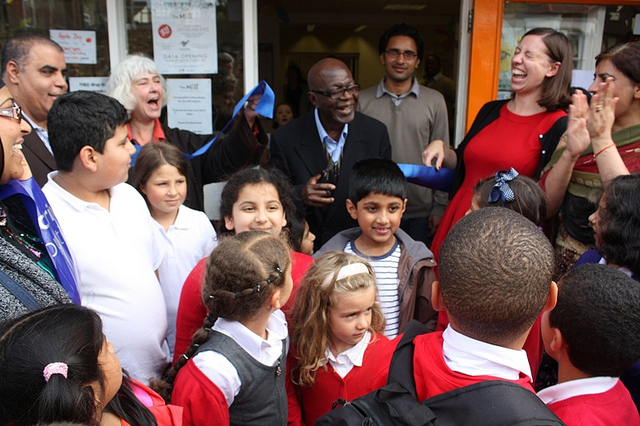 Everyone at The Mill was deeply saddened to hear that our friend and neighbour Mr Mensah passed away recently. Neil Meads, former Mill Trustee and member of the St James Street Library Campaign, has shared his memories with us:
"When The Mill first opened its doors in September 2011, hundreds of people from the local community gathered to celebrate. It was a day packed with wonderful moments and emotion. However, the image that will always stay with me is of the beaming smile of the man who cut the ribbon to officially open the building.
In the process, Mr Mensah, who sadly passed away last month, just before his 79th birthday, cemented his status as something of a local celebrity or at least as one of the faces of The Mill and the St James Street Library campaign that preceded it.
He lived a few doors down from the building he considered central to the community and in the summer of 2010 he spoke with forthright eloquence when appearing in a 'Love The Library' campaign video.
He talked about how his daughter used the library as a quiet place to study, of the computer and other courses he'd attended there. How it wasn't easy for children and senior citizens to trek all the way to the centre to visit the library. It was he said "pathetic" to close a building that was used by all generations of a diverse local community.

Love St James Street Library from Blackhorse Action Group on Vimeo.
As one of the original trustees I can honestly say that despite the long list of people who played a role in bringing The Mill to life, it very quickly just seemed right for Mr Mensah to be the one we asked to cut the ribbon. Crucially he wasn't a politician – although several of those were vital to our existence – but it seemed fitting that a space that was saved by the community would be opened by someone from the community.
After he'd performed his opening duties and posed for the local press, Mr Mensah spoke to me again for another video. Watching the unedited interview back I'm freshly embarrassed by my phone interrupting him mid way through a Winston Churchill quote. But mostly it's nice to hear how 'inspired' he was by the hundreds of hours of volunteer work that had transformed the building from a derelict state to a place where the whole community could, he said, benefit.

The Mill – Nesta Neighbourhood Challenge 2011-12 from Blackhorse Action Group on Vimeo.
On a personal level I'll miss bumping into Mr Mensah in the street and being grilled for the latest news.
On behalf of The Mill I'd like to thank Mr Mensah again for marking the start of what thankfully continues to be a community success story.
Our thoughts go out to his family, and they can be sure he will always be remembered as a true gentleman of The Mill."