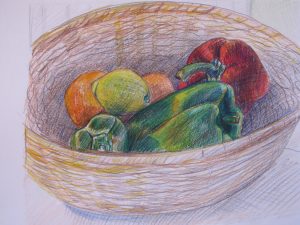 Sunday 12 November
11am – 1pm
FREE
All welcome
Get Drawing!
The Art Cart is an addition to The Mill's Art Works programme. It will always be furnished with paper and great coloured pencils for the enjoyment of adults and children.
Join us for some still-life drawing Sunday 12 November, 11 am to 1pm.
With the support of Aviva Community Fund. A big thank you to all the people that voted for us, Jackson's Art and Trestles London.
Drawing by Sarah at Open Learning Blog