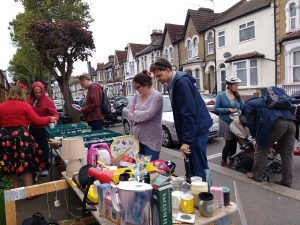 Jumble Trail 2017 – Sunday, 17 September 2017, 10am – 3pm
We need what you don't want … ! The Mill will be taking part in the St James Big Local Jumble Trail on 17 September and we would love to receive your unwanted items for our stall.
What do we want? Good quality bric-a-brac – eg children's toys, household items such as crockery and cookware, ornaments, collectible vinyl albums, and other 'stuff'  – but, please,  no videos, CDs, clothing or books.
When do we want it? You can deliver your items the week before:
Saturday, 9 – Sunday, 10 September: 10am – 2pm
Tuesday, 12 – Friday, 15 September, 9.30am – 6pm
Ours will be a stall with a difference! We hope you'll call at The Mill during the Jumble Trail.
For a small donation you can make yourself a cuppa – and there might be biscuits too!
All proceeds will support our work at The Mill.