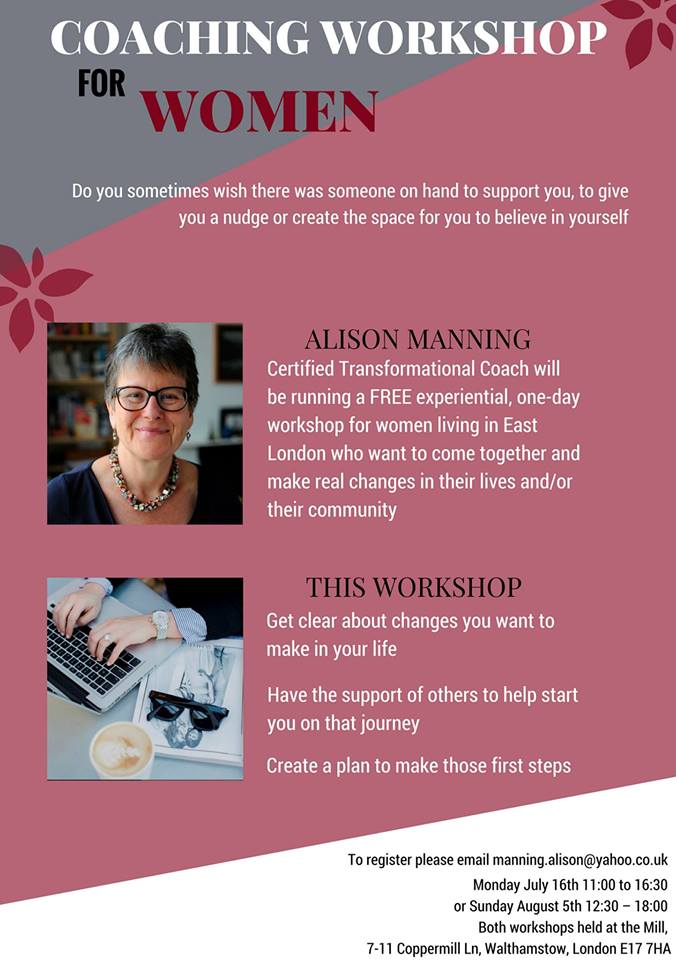 Date/Time
Mon 16 July, 2018 11:00 am - 4:30 pm
Location
Garden Room
Categories
Are you looking to lose weight? Get a new job? Feel more self-confident? Or simply make more friends? But do you find that you can never find the time to get started? And even when you do, you've probably found that it's hard to make changes on your own.
Do you sometimes wish there was someone on hand to support you, to give you a nudge or create the space for you to believe in yourself?
If any of this sounds familiar, you've come to the right place.  I'm Alison Manning, a Certified Transformational Coach, and I'll be running a FREE experiential, one-day workshop for women living in East London who want to come together and make real changes in their lives and/or their community.
Through this workshop you will have the opportunity to:
get clear about changes you want to make in your life
have the support of others to help start you on that journey
create a plan to make those first steps
Please contact me via my email to book your place for the workshop on 16 July 2018.
Price: Free
Contact Name: Alison Manning
Contact Email: manning.alison@yahoo.co.uk