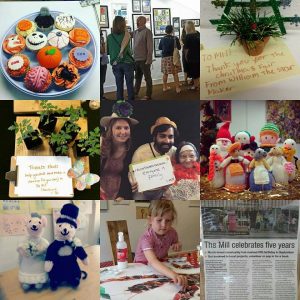 18 – 19 November 2017
9:30am – 2:30pm
Free
Interested in a career in Comms? Want to work for charities and social action?
Join us at The Mill for a weekend Boot Camp for young people aged 16-22 who are interested in working in communications. The Boot Camp is your opportunity to learn new skills and gain experience supporting local charities and social action in Walthamstow.
The weekend will feature hands on, interactive workshops led by experienced industry professionals.
The workshops will be covering:
Working with clients
Story telling
PR and what the media are looking for
Using social media for good
Team working
Our workshop leaders have backgrounds in campaigning, PR, social media, digital marketing, web development and journalism, drawing on their experience at organisations including the BBC, EDF, RNIB, as well as start ups, local charities, and creative businesses.
Once you've graduated from the Comms Boot Camp, you will be partnered with volunteers running a group, activity or event at The Mill to get some real comms volunteering experience for your CV. For instance, you could be supporting our annual Apple Day event, or a new children's art group starting at The Mill.
The Mill is a vibrant volunteer-lead space created by and for the diverse local community in Walthamstow, East London, as a place for people to meet, learn, create and make things happen locally. The charity was created by local residents following a successful grassroots campaign to retain the closed local library building for community use. The Mill is now a thriving community space based in the old library building, offering space for groups to meet, drop in social spaces and an active arts programme of exhibitions, events and courses.
Sign up by emailing comms@themillE17.org with a short paragraph about yourself and why you'd like to take part.
Max 10 participants.
Do you work in Comms or Marketing and live or work locally? Would you be interested in sharing your knowledge and experience with young people? We're looking for people who would be willing to give short presentations to share their comms experience and anyone who'd like to join the team to help plan and deliver the weekend activities. Get in touch if you'd like to get involved.