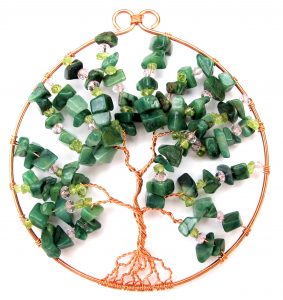 4, 11, 18 October and 1 November 2017
6pm to 8pm
£20 per workshop or £75 for all four if paid in advance. Materials supplied
10 spaces available
Autumn with its shorter days and longer evenings is just around the corner, why not try a nurturing activity to fill your evenings? Join our four week jewellery making workshop on Wednesdays, run by Birgit Barrett from Beyond Beading.
This course will be taking you through a variety of techniques from forming basic wire loops to make a gorgeous charm bracelet, working with tigertail wire and beads to make a floating necklace, a washer and seed bead pendant and finally a fabulous suncatcher using real gemstone chips. You will learn how to handle the relevant jewellery-making tools and you can choose to follow our designs or develop your own. There will be a wide selection of beads from which to choose, and all tools for the classes will be provided. All course projects are suitable for beginners.
This is a great way to unleash your creativity, grab some me-time, make new friends, learn new skills and have two hours of fun.
Booking and further details, contact Birgit on 07910 251 629