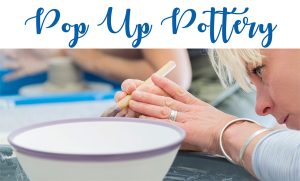 28 September 2017
7.30pm to 9.30pm
£15 per participant, booking essential
Join us for an evening of creativity and relaxation at our pop up pottery! Experiment with a number of pottery decorating techniques to create a beautiful serving plate for your home. Included in the workshop cost is demonstration of three simple but effective decorating techniques, one serving plate to decorate, use of our pottery paints and equipment, glazing and firing of your piece for collection a week or so later.
10 spaces available. Booking essential with payment in advance
To book email info@themille17.org or call 0208 521 3211.