I'd a creative block and wasn't using my studio.  Encouragement through the Art Works team and exhibiting at The Mill I got my passion back.
Bex Ward, regular exhibitor
Show your art work in our community space
The Mill hosts themed art exhibitions at least four times a year. We want to show artists of all ages and abilities in our community exhibitions. If you want to show or sell your work look out for our next exhibition.
Cut & paste
An exhibition celebrating the medium of contemporary collage.  Deadline for submission Thursday 12 – Saturday 14 April 2018.
Artists can submit up to three pieces to exhibit each time.
To exhibit you need to pay £10 per artwork or £5 per artwork for the unwaged – this includes seniors, students, children, low waged and unemployed.
If you want to sell your piece we'll add 20% commission on to the price of your artwork. This money is put to good use as it provides valuable funds for The Mill. You'll receive payment on the weekend the exhibition is taken down. You'll be paid in the way The Mill has received the payment  either bank transfer or cash.
Meet the artists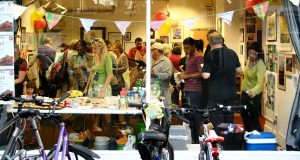 At the start of  each exhibition we host a celebratory "Meet the Artists" evening.  This is a great opportunity for you to meet other artists and Mill regulars to discuss your pieces and of course a chance for friends and family to see your work on public display.
We'll not give out any of your personal details to anyone making an enquiry about your work but we'll act as an intermediary if needed. If you want we can sign post people to your website or social media account.
What we can exhibit
Artwork can be in any medium but needs to be ready to hang. The maximum size we can exhibit is 50 x 70 cm and 2.30 kg.
How to exhibit your work
Keep an eye out for when we are hosting a new exhibition.
So we can accept your work please:
Deliver and collect your work on the agreed dates set out on the exhibition entry form.
When you hand your pieces in to our Front Desk please put your name, artwork title, medium used and contact number on the back of each piece or on a slip of paper securely attached to the artwork.
All works must be ready to hang.  They can be stretched canvas, mounted on card, or properly framed and suitable strung. We can't use works in clip frames.
Complete your entry form and disclaimer that agrees to our terms and conditions.  Our Front Desk volunteers will provide you with a copy of this and a receipt, please keep this safe.   Exhibits are not insured by The Mill, if you wish we recommended that you take out your own insurance.
If you have a jpeg of your work email it over, sometimes we can feature works in our promotion.
The final selection for artwork shown is made by the Art Works committee.  If your work is not accepted you'll be contacted and any money paid will be refunded.
Get in touch
If you have any queries contact us at Art Works. The Art Works team is totally volunteer-based so if we take too long to answer, please do chase us.