How to get in touch
7-11 Coppermill Lane, Walthamstow, E17 7HA    
Telephone:  020 8521 3211
Email: info@themille17.org
Stay up-to-date on Facebook / Twitter / Instagram or sign up to our mailing list.
Our public open hours
9.30am – 6.00pm Tuesday to Friday
10.00am – 2.00pm Saturday and Sunday
Closed bank holidays
Outside of public open hours you can hire out a room
Getting to The Mill
Plan your journey on Transport for London Journey Planner
We're a three minute walk from St James Street overground station.
There's cycle parking bays outside our front entrance.
We have room for some buggies and pushchairs inside The Mill on the ground floor outside the Children's room.
The nearest carpark is St James Street.
You need a parking permit for on-street parking in the surrounding area between 8.00am-6.30pm Monday to Saturday.
There's a disabled parking bay for Blue Badge holders outside The Mill entrance.
Who's who at The Mill
Our team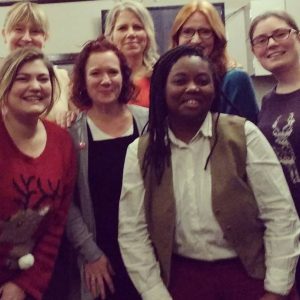 Centre management and room hire:
Natasha McFadzean – natasha@themille17.org
Comms:
Helen Johnston – comms@themille17.org
Volunteer coordinator:
Ruth Mitchell – volunteeradmin@themille17.org
Business development manager:
Helen Bigham – helenb@themille17.org
Grants fundraiser:
Helen Hunte – helen@themille17.org
Finance officer:                                                                        Abby Widger – abby@themille17.org
Our trustees:
Chair: Sharon Page
Treasurer: James Phillips
Secretary: Carla Villante
People: Alison Griffin
Ingrid Abreu Scherer
Carla Cruz
Nicki Wilson
Other contacts:
Exhibitions/Children's Art Club/ArtWorks – artworks@themille17.org
Books/Honesty Library: Isabel Simons – books@themille17.org