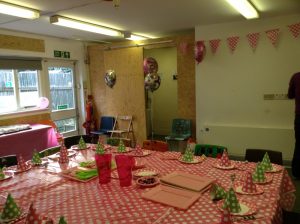 What availability do you have for a children's party?
Please check with us room availability before completing our booking form. Our Children's Party Package is only available on Saturdays and Sundays between 2:00 to 5:00pm. Due to the busy life at The Mill we're only able to offer party packages at the weekends. Exceptions may be made on a case-by-case basis based on availability.
Do I need to place a deposit for the children's party?
Your booking won't be confirmed until you've provided us with our booking form with a minimum deposit of £30.
When do I need to pay in full?
The balance becomes payable no less than one full week prior to the hire date.
Do I get charged if I cancel?
In the event of cancellation, you'll be liable for payment of charges. Notification of cancellations should be made in writing and will be effective on the date received by The Mill.
20% of total charges for cancellations made within 7 days of the party.
50% of total charges for cancellations made within 2 days of the party.
100% of total charges for cancellations made less than 24 hours of the party.
How long will you hold a space for me?
Provisional bookings will be held for 1 week. If no written confirmation is received the booking will be cancelled.
Are tables and chairs provided?
The Mill has tables and chairs available for parties.
Do I have to set up for the party?
You'll be required to set up and clear the Garden and Children's Rooms within the allocated booking time. We recommend allowing half hour at either end of the party. There'll be a member of staff or an experienced reception volunteer on hand throughout your party to answer any queries you may have.
Can I decorate the rooms?
Of course you can, up to a point – no drilling holes! Please speak to the designated person on duty. Please ensure that all decorations are taken down and taken away at the end of the party.
Can you provide catering?
The Mill does not have public kitchen facilities.
You'll need to provide your own food and birthday cake. Also it will be your responsibility to provide plates, cups, cutlery, serviettes and decorations.
We can provide, by prior arrangement and for a modest additional fee, tea, coffee and a flask of hot water for your event. Access to drinking water.
Alcohol and smoking are strictly not permitted.
Do I have to clean the space after my party?
Yes please, The Mill asks all hirers to return the spaces to how they found them. This will include packing down and returning all furniture, sweeping/mopping any spillages and throwing away leftover food. Please ask for equipment at Reception.
What do I do when the party date is confirmed?
Once we've confirmed the date you want is free please complete our booking form or drop the form off in person or e-mail to info@themille17.org.
We'll need a deposit – minimum of £30 and full payment is required in advance of booking.
You can pay by cash or cheque to be made payable to The Mill. Or BACS Account Number 65496028, Sort Code 08-92-99.
Outside of public hours is the Children's room only used for hiring out for children's parties?
No it isn't! Outside of The Mill's public hours and subject to availability the Children's Room can be used for meetings or for any type of get together. It holds 10 in 'conference style' seating and 18 in 'auditorium style' seating.