Do you want to be part of a local community organisation achieving great things with and for people in Walthamstow?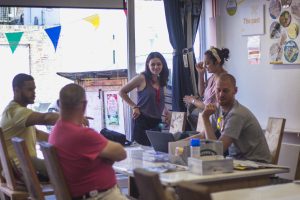 The Mill is hiring!
We are a hub for local people to come together, get to know their neighbours, and grow their ideas for groups and activities that benefit our community.
We're recruiting for two exciting, part-time positions:
Community Organiser
18 hours per week
£24,960 pa pro-rata
The role: We are looking for a Community Organiser to develop opportunities for local people to get involved and manage our volunteer programme. You will be able to engage with local people, volunteers and staff at The Mill, working with them to help grow new ideas that benefit the community. You will be enthusiastic, proactive, organised and sympathetic to the aims of The Mill. You will be responsible and able to work on your own initiative in a busy environment and out in the community.
Full details and person specification: Community Organiser
Interview date: Tuesday, 16 October 2018
Administrative Officer
18 hours per week
£22,880 pa pro-rata
The role: We are looking for an experienced Administrative Officer.  Working in a public facing role interacting with a diverse community of Mill users, staff, volunteers and our licensees, you will provide administrative and operational support to the Centre Manager and maintain and create administrative systems and financial processes working with the Financial Controller and Centre Manager.
Full details and person specification: Administrative Officer
Interview date: Wednesday, 17 October 2018
Both roles require regular weekend working, occasional reception cover and key holder responsibilities.
To apply for either post: please send an up to date CV and a covering letter specifically addressing all the points on the person specification.
Candidates will not be shortlisted if they submit just a CV or if they have not addressed the items on the person specification criteria.
Submit your CV and covering letter indicating which post you are applying for to people@themillE17.org
Closing date for all roles: Friday, 28 September 2018, 6pm